Largest Selection of Bunk Beds at the guaranteed lowest prices!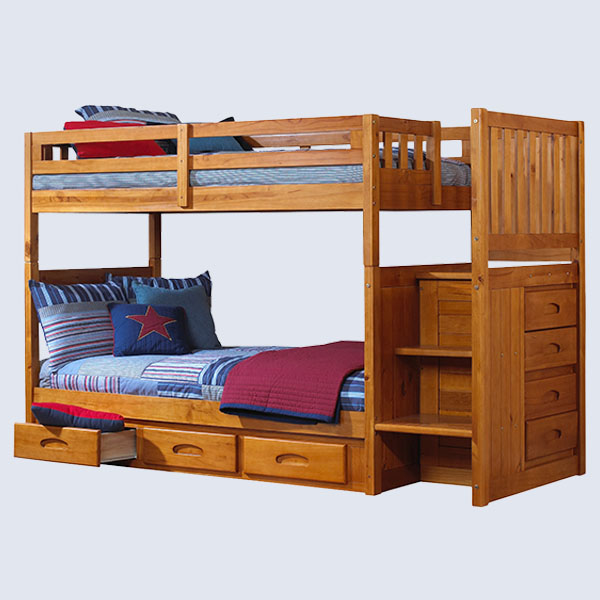 Bunk Bed Buy is solely focused on selling bunk beds and the accessories that go along with them. Many of our competitors sell a wide range of products. Unfortunately, this makes them less attentive to detail of all the different qualities and features of bunk beds. Here at Bunk Bed Buy, we know the products we sell inside and out.
We started selling bunk beds at a local level in a retail store over 10 years ago. Unfortunately, due to COVID and the shift to online, we were forced to shutdown our retail store and focus on selling our bunk beds online. With the hands on knowledge that we received from having a retail store, we are well-equipped to answer any questions you may have regarding our beds.
Whether you are looking for a bunk bed for kids, for adults, a stairway bunk bed, etc., we have all the answers you need. Our goal is to help our customers with any questions to make choosing the right bunk bed a reality.
With many years in the business, we have built strong relationships with the manufacturers and shipping companies. Our relationships with these companies allows use to keep our costs low. As a result, we pass our savings along to our customers by providing the best possible prices on all beds!
We pick the very best so you can be assured of the quality. There can be no compromises when it comes to materials, ease of wear, and durability.
About our Bunk Bed Brands
Atlantic Furniture Bunk Beds
When it comes to purchasing a bunk bed, quality and safety are of utmost concern to Atlantic Furniture. All the materials Atlantic uses to create their bunk beds are both lead-free and child proofed to ensure your children are safe. Their exclusive safety features increase the strength and durability of the bunk bed, while reducing the risk of injury. This includes solid hardwood construction and steel reinforcements to maintain sturdiness.
Atlantic Furniture Bunk Beds are a top hit due to their beauty, safety, and hardwood construction. Atlantic offers four different high-end bunk bed collections. The original and most popular is the Columbia collection. The other collections include the Nantucket, Richland, and Woodland.
Atlantic has been around the furniture business for over 30 years. For a business to survive that long, they must deliver high-quality products. Fortunately, Atlantic does not disappoint. Their product, including bunk beds, will last a long time and are perfect for any home!
Discovery World Bunk Beds
Discovery World Furniture has been manufacturing and selling their bunk beds since 1991. Just like Atlantic Furniture, Discovery World has been in business for over 30 years! 
What makes Discovery World Bunk Beds so popular? There are a number of factors, however, the main one is quality. Discovery World assembles their bunk beds here in the United States for quality assurance purposes. They want to make sure that every customer receives the top-end version of their product. 
Not only are Discovery World's products high-quality, but they are also affordable. Bunk beds can be rather expensive, however, Discovery World offers an affordable product line. If you are in need of a bunk bed on a budget, look no further than Discovery World!
Even though Discovery World focuses on bunk beds, they also offer a beautiful accessory collection that matches their beds. From five drawer chests, to entertainment stands, to desks, Discovery World has the matching furniture you need to complete your bedroom set.
Twin over twin bunk beds are the most popular size that we sell. Why? Because they are the best space-saving bunk bed available and they are also the most affordable. Twin over twin beds are perfect for younger children who do not need as much space. They also work great as temporary sleeping spots for older kids and even adults.
You will find that the majority of the bunk bed collections are available in a twin over twin. Atlantic, Discovery World, Donco, & Max & Lily all offer a wide variety of twin over twin products to choose from. There is a twin over twin bunk bed for everyone out there!
Have a slightly older kid that needs a little more room? Then a twin over full bed might be your best option. The smaller kid will have a nice twin bed on top and the older/larger kid will have a bigger bed on the bottom. 
Twin over full bunk beds allow for kids to grow into the bed. Sometimes with a twin over twin bed, the kids will outgrow them quickly. In these cases, it is nice to have a larger bed on the bottom. 
Not only do they provide more room, but typically twin over full options have a higher weight capacity for both the top and bottom bunks. While there are slightly less options in this size than in a twin over twin, there are still plenty of great products to choose from!