Largest Selection of Bunk Beds at the guaranteed lowest prices!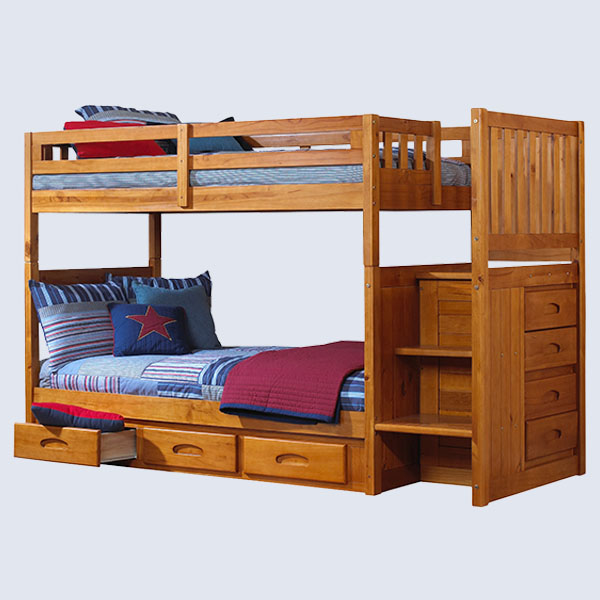 Bunk Bed Buy is solely focused on selling bunk beds and the accessories that go along with them. Many of our competitors sell a wide range of products. Unfortunately, this makes them less attentive to detail of all the different qualities and features of bunk beds. Here at Bunk Bed Buy, we know the products we sell inside and out.
We started selling bunk beds at a local level in a retail store over 10 years ago. Unfortunately, due to COVID and the shift to online, we were forced to shutdown our retail store and focus on selling our bunk beds online. With the hands on knowledge that we received from having a retail store, we are well-equipped to answer any questions you may have regarding our beds.
Whether you are looking for a bunk bed for kids, for adults, a stairway bunk bed, etc., we have all the answers you need. Our goal is to help our customers with any questions to make choosing the right bunk bed a reality.
With many years in the business, we have built strong relationships with the manufacturers and shipping companies. Our relationships with these companies allows use to keep our costs low. As a result, we pass our savings along to our customers by providing the best possible prices on all beds! We also offer high quality content on our bunk bed blog!
Bunk Beds with Storage Drawers
The majority of the bunk beds we offer come with the option to include storage drawers. Most of the time the reason someone purchases a bunk bed is to save space. Bunk beds with storage drawers makes sure you are maximizing every inch of your room!
Simply roll the storage drawers out from underneath the bed. Once out, store your clothes, sheets, pillows, and more. The bunk bed manufacturers make it easy as possible to use their storage drawers. They also make it so the drawers will not hurt your floors.
If you do not have the room for a dressers or chest, the underneath storage are the perfect bunk bed add-on. The other positive is that the storage drawers are typically under $100 as an add-on. They will provide a ton of value that will make that money seem worthwhile.
Bunk Beds with Trundle Bed
Do you need room for a third guest to sleep or want to have a nice bed for your kid's friends when they come over? If so, a bunk bed with trundle is a good bet to do the trick. Trundle beds are typically an additional twin-sized bed that rolls out from underneath the bunk bed. Most trundle beds are featured on wood bunk beds. A trundle bed makes excellent use of wasted space below the bottom bunk of many bunk beds.
Bunk beds with trundle beds underneath usually have rolling wheels to easily pull the bed in and out. Whether you choose a bunk bed with a trundle, or optional storage drawers instead, making smart use of wasted space is a great investment.
Metal Bunk Beds are another type of bunk bed option, for those looking for a lightweight option. These bunk beds provide a more industrial and simpler look when compared to wood bunk beds. Metal bunk beds are great for colleges and apartments, especially if you plan on moving frequently. Though metal bunk beds are lighter weight than wood bunk beds, they are still quite sturdy. Most metal bunk beds are twin over twin, though there may be other options available.
Wood Bunk Beds encompass many of the most popular and purchased bunk beds available. Wood bunk beds are available in many styles, sizes, finishes, and configurations. The advantage to purchasing a wood bunk bed goes beyond a beautiful wooden piece of furniture. Wood is quite sturdy and can withstand many years of use.
Many wood bunk beds come with trundle beds or the option for storage drawers underneath. This type of bunk bed is so versatile, as there is a wood finish to fit every style and theme of the room. Whether you're looking for a coastal whitewash finished wood or a dark and rich deep chocolate wood, wood bunk beds come in a style suited for everyone's taste.
Unlike traditional ladder bunk beds, stairway or staircase bunk beds offer an alternative to climb to the top bunks. Most stairway bunk beds have a solid wood constructed staircase at the head of the bed. Bunk beds with staircases often take up slightly more room than bunk beds with a ladder. However, bunk beds with a staircase are great for parents seeking extra safety measures. 
Staircase bunk beds provide the largest stepping surface to safely get up and down from the top bunk. In addition, bunk beds with staircases have handrails for extra support. For children who are known to be especially clumsy, or younger kids, a staircase bunk bed may be the safest bunk bed purchase.
Playhouse bunk beds offer a unique combination of both a bed and a playhouse! Bunk bed playhouses are a great option to make bunk beds fun for your children. There are various types to choose from, including tent and house-style designs, curtains, slides, treehouses, and more. Your children will be able to let their imagination roam freely while sleeping in a fun playhouse bunk bed.
Playhouse bunk beds are offered by several different manufacturers in several different size configurations. Most playhouse bunk beds are made from wood, though there are a few metal playhouse bunk bed options available.
We pick the very best so you can be assured of the quality. There can be no compromises when it comes to materials, ease of wear, and durability.
Atlantic Furniture Bunk Beds
When it comes to purchasing a bunk bed, quality and safety are of utmost concern to Atlantic Furniture. All the materials Atlantic uses to create their bunk beds are both lead-free and child proofed to ensure your children are safe. Their exclusive safety features increase the strength and durability of the bunk bed, while reducing the risk of injury. This includes solid hardwood construction and steel reinforcements to maintain sturdiness.
Atlantic Furniture Bunk Beds are a top hit due to their beauty, safety, and hardwood construction. Atlantic offers four different high-end bunk bed collections. The original and most popular is the Columbia collection. The other collections include the Nantucket, Richland, and Woodland.
Atlantic has been around the furniture business for over 30 years. For a business to survive that long, they must deliver high-quality products. Fortunately, Atlantic does not disappoint. Their product, including bunk beds, will last a long time and are perfect for any home!
Discovery World Bunk Beds
Discovery World Furniture has been manufacturing and selling their bunk beds since 1991. Just like Atlantic Furniture, Discovery World has been in business for over 30 years! 
What makes Discovery World Bunk Beds so popular? There are a number of factors, however, the main one is quality. Discovery World assembles their bunk beds here in the United States for quality assurance purposes. They want to make sure that every customer receives the top-end version of their product. 
Not only are Discovery World's products high-quality, but they are also affordable. Bunk beds can be rather expensive, however, Discovery World offers an affordable product line. If you are in need of a bunk bed on a budget, look no further than Discovery World!
Even though Discovery World focuses on bunk beds, they also offer a beautiful accessory collection that matches their beds. From five drawer chests, to entertainment stands, to desks, Discovery World has the matching furniture you need to complete your bedroom set.
Dorel Bunk Beds is the perfect bunk bed brand for a budget-conscious shopper. Their affordable and versatile bunk bed selections provide exceptional value and high-quality wood construction. Dorel Living specializes in creating various types of furniture with trendy designs. They are a trusted manufacturer that stands behind its products. All furniture items purchased by Dorel Living come backed with a limited one-year warranty.
Whether you're looking for bunk beds for kids or adults, wood or metal bunk beds, or anything else, Dorel Living is sure to have it. Their quality materials are made to last so you can feel confident in a long-term investment. Dorel Living also specializes in other similar products such as loft beds and playhouse bunk beds.
Max & Lily Bunk Beds have quickly become a top-selling brand in the bunk bed industry and for good reason. Their beds focus on safety while also being environmentally friendly. They use sustainable wood sources from environmentally conscious suppliers.
Not only are Max & Lily Bunk Beds good for the environment but they are also unique. They offer a variety of "fun" features such as curtains and slides that will brighten your kid's day.
Max & Lily want you to feel confident in your purchase. Which is why they back their products with what they call the Maxwood Furniture warranty. They want all their customers to be happy with their purchase and to receive a bunk bed that will last them a long time.
Twin over twin bunk beds are the most popular size that we sell. Why? Because they are the best space-saving bunk bed available and they are also the most affordable. Twin over twin beds are perfect for younger children who do not need as much space. They also work great as temporary sleeping spots for older kids and even adults.
You will find that the majority of the bunk bed collections are available in a twin over twin. Atlantic, Discovery World, Donco, & Max & Lily all offer a wide variety of twin over twin products to choose from. There is a twin over twin bunk bed for everyone out there!
Have a slightly older kid that needs a little more room? Then a twin over full bed might be your best option. The smaller kid will have a nice twin bed on top and the older/larger kid will have a bigger bed on the bottom. 
Twin over full bunk beds allow for kids to grow into the bed. Sometimes with a twin over twin bed, the kids will outgrow them quickly. In these cases, it is nice to have a larger bed on the bottom. 
Not only do they provide more room, but typically twin over full options have a higher weight capacity for both the top and bottom bunks. While there are slightly less options in this size than in a twin over twin, there are still plenty of great products to choose from!
Full over full bunk beds are popular among older kids and adults. They give kids plenty of room to sleep, where a twin bunk bed might be a little tight. Just like the twin over full bunks, manufacturers anticipate larger kids sleeping on the full over full. For this reason, the manufacturers will increase the strength and therefore, the weight capacity, of the bunk bed.
If you are worried about the smaller beds being an issue, a full over full is a great option. There are plenty of options in this size that will fit any budget. While twin over twin may be the most popular size, all the top manufacturers offer their own versions of the full over full bunk beds.